Für sie gelesen
"Verbraucherschützer warnen vor Blitzdiäten" und genau hierzu haben wir einen Artikel bei T-Online für sie gefunden.
Lesen sie selbst: Verbraucherschützer warnen vor Blitzdiäten
Heute wird das Blog für euch mal ganz kurz ausfallen. Weil es den ganzen Tag wie aus Eimern geregnet hat (außer beim Sport heute in der Frühe). Sonst war nur wenig los bei Balschuweit´s 😉










Wie man auf dem Regenradarbild wunderbar sehen kann war es heute wirklich sehr nass 🙁
(die Aufnahme ist von Mittags, am roten Punkt liegt Wermelskirchen, je dunkler blau umso stärker der Regen)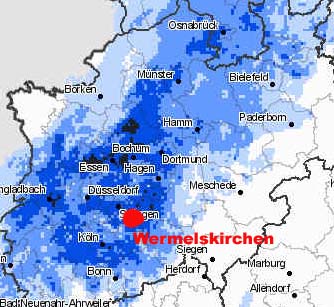 Sport am Morgen
Wetterstatus: Trocken, 4°C, Wege waren im Allgemeinen noch OK.
Irgendwie ist heute alles normal. Unsere anderthalbe Stunde PNW heute waren mal ohne besondere Vorkommnisse und kurz gesagt sehr gut. Wir sind zur Zeit sehr fit ❗
Frühstück
The same procedure as last day 😉
Arbeit
Beratungstermin mit Lutz in seinem Büro und Anja musste zum TOOM-Markt was einkaufen und Hausarbeit machen.
Mittag
And again the same procedure as last day 😉
Sport am Nachmittag
Anja machte ihr Krafttraining nach einer mehrtägigen Pause heute mal wieder und sie meint, dass ein Schmerz, den sie im Bereich des rechten Ellenbogens hatte heute nicht da war.
Lutz machte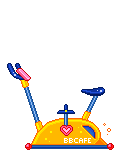 heute vorsichtshalber zum dritten mal hintereinander Herz-Kreislauf-Training nach Plan der 2. Etappe, weil er vorvorgestern so ein leichtes Knacken im linken Ellenbogen-Gelenk beim Kraft-Training hörte.
Abendessen
Salat mit Putenbruststreifen und Vollkornbrot mit diesem Zubehör. Später noch Obst usw….
Dann geht es morgen in der Früh wieder auf zum PNW – vielleicht sehen wir uns ja an der Remscheider Talsperre?